Everyone here has the sense that right now is one of those moments when we are influencing the future.
Steve Jobs
"As soon as you honor the present moment, all unhappiness and struggle dissolve, and life begins to flow with joy and ease. When you act out the present-moment awareness, whatever you do becomes imbued with a sense of quality, care, and love - even the most simple action."
― Eckhart Tolle
"Your big opportunity may be right where you are now."
Napoleon Hill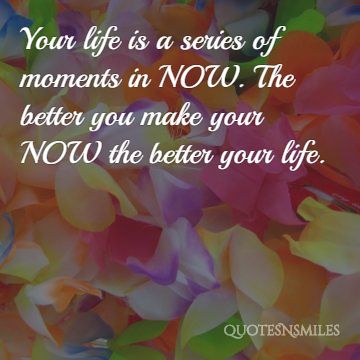 "A year from now you may wish you had started today."
~ Karen Lamb
"Your outer journey may contain a million steps; your inner journey only has one: the step you are taking right now."
― Eckhart Tolle
"Nothing has happened in the past; it happened in the Now. Nothing will ever happen in the future; it will happen in the Now."
― Eckhart Tolle
P.S: Whatever the time of day it may be, it is always NOW.
What can you be and do now that you have never considered before ?
If not not,then when ???
Thank you for visiting the TREASURE TROVE now.
Namaste,
Bhagyalakshmi