Do not let yesterdays disappointments
overshadow on tomorrows dreams
because your life is like a mirror,
if you keep smiling
it smiles right back to you....
So, keep smiling.
~Author Unknown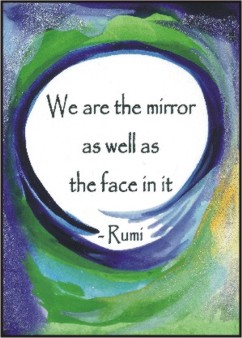 Life is just a mirror
and what you see out there
you must first see inside of you.
~ Author Unknown
Happiness is: Looking in a mirror
and liking what you see.
~ Mahatma Gandhi
P.S: When you look at yourself in the mirror,do you see what I see when I perceive you?
Do you see an Infinite being with Infinite possibilities ???
If yes….GREAT !!!!! If not,….look again.
Thank you for visiting the TREASURE TROVE today.
Namaste,

Bhagyalakshmi