"To change ourselves effectively, we first had to change our perceptions."
― Stephen R. Covey
"Never change your originality for the sake of others because no one can play your role better than you." Author Unknown
"One thing you can do better than anyone else, is be yourself."
~ Author Unknown
"If the doors of perception were cleansed, everything would appear to man as it is - infinite."
― William Blake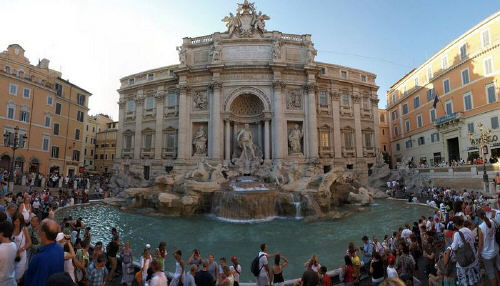 There's a long-standing tradition about throwing coins in the Trevi Fountain – spend a few minutes watching people at the fountain and you'll see that this is the main reason many people stop by. The original legend says that if you throw a coin into the Trevi – with your back to the fountain, throwing the coin with your right hand over your left shoulder – that will ensure a return to Rome. Perhaps thanks in part to the film "Three Coins in the Fountain," a newer story also routinely makes the rounds that says throwing one coin means a return to Rome, a second coin leads to a new romance, and a third coin leads to marriage. You are welcome to believe (or not believe) either one – it all depends on your level of superstition, and the depth of your wallet!
I loved the energy of this place.It was simply awesome!!!!
Borrowing some horse sense
"When you know yourself, you are empowered. When you accept yourself, you are invincible."
~Tina Lifford
"Happiness is not something you postpone for the future; it is something you design for the present." ~Jim Rohn
I choose to make the rest of my life….the BEST of my life.
for visiting the TREASURE TROVE today.
HAVE AN AWESOME DAY !
Namaste,
Bhagya